July 28, 2022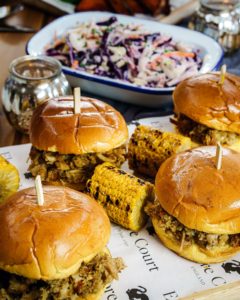 Your tongue is covered in tiny sensory organs called taste buds. They send taste messages to your brain and create chemical reactions from the foods you eat to enjoy a range of flavors. Unfortunately, your love for food can be affected with age because your ability to taste diminishes. Not to mention, dentures can affect the way food tastes. Don't let dentures and taste concerns stop you from replacing your missing teeth. Here's how you can complete your smile and savor your favorite foods.
Do Dentures Affect Taste?
Dentures have been used for generations to treat significant tooth loss. Replicas of your teeth are created from an impression of your mouth and set in a gum-colored base. Traditionally, the denture rests on top of the gum tissue and is held in place using suction. This allows you to eat a wide variety of foods to maintain a nutritious diet.
Lower dentures have little to no effect on your sense of taste; however, one used for the upper arch can cause a slight difference. Most of your taste buds are located on your tongue, but your cheeks, throat, and roof of your mouth also have receptors. If an upper denture covers the roof of your mouth, you may experience some temporary taste loss as your brain adjusts to the prosthetic. Over time, you'll regain your full sense of taste.
If the problem doesn't resolve, there can be another factor causing the issue, like the adhesive you're using. Most dentures don't need an adhesive to stay in place, but if they don't fit well, you may use one for added stability. Some people experience a lingering metallic taste if they use adhesives too often. Maintaining regular appointments with your dentist will ensure your denture continues to fit snuggly, so you don't have to rely on an adhesive.
In some situations, food deposits and stains can also change the way your food tastes. Keeping your denture and mouth clean can improve taste sensations while promoting the lifespan of your new smile.
Improve Your Taste Sensations
If you're concerned about an upper denture affecting your quality of taste, you have other options. You can choose a palateless denture that has a horseshoe shape, so it won't cover the roof of your mouth. You may also be a candidate for an implant denture, which will replicate both the roots and crowns of your lost teeth.
Besides choosing the best denture for your needs and preferences, commit to your oral hygiene and visit your dentist regularly. You won't have to worry about taste loss, giving you another reason to smile.
About Dr. Colleen Cain
Dr. Cain earned her dental degree from Temple University in Philadelphia and has continued her education in advanced procedures, like dental implants. She combines her training and qualifications with the latest technologies and techniques to help each patient achieve their best smile. If you are ready to replace your lost teeth, contact our office today to request your consultation.
Comments Off

on Do Dentures Affect Your Sense of Taste?
No Comments
No comments yet.
RSS feed for comments on this post.
Sorry, the comment form is closed at this time.