Dental Crowns in Castle Shannon
Restoring Teeth for Long Lasting Results
Whether you have a chipped, cracked, broken, decayed, or missing tooth, crowns and bridges can be used to fully restore them. They are two of the most tried and true treatments in all of dentistry, and in the hands of Dr. Colleen, they can make even the most damaged smile look like new again. If you're sick and tired of dealing with your compromised teeth, crowns and bridges can offer the solutions you need, and you can get a completely custom-made one in just two easy appointments.
What is a Dental Crown?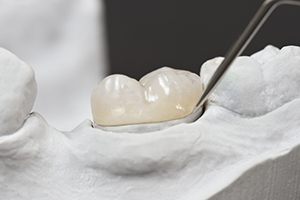 A crown is actually a tooth-shaped "cap" that simply fits over the top of a compromised tooth. We mostly use them to fix large cavities and fractured teeth, but they can also be used to cosmetically enhance misshapen teeth or those that cannot be whitened traditionally.
Depending on which tooth needs to be repaired, they can be made from a variety of materials. All-metal crowns are typically used for the back teeth, as these are the strongest and can hold up to the chewing forces they are exposed to throughout the day. For the front "smile zone" teeth, we can use beautiful, natural-looking porcelain crowns that will seamlessly blend in with the rest of the smile.
What are Fixed Bridges?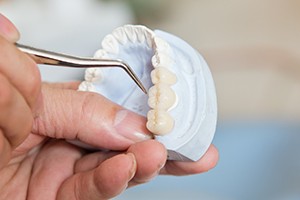 A dental bridge is a type of prosthetic we can use to replace a single missing tooth or even a few in a row. They work like this: two crowns are placed on the teeth on either side of the gap in a patient's smile, and these are bonded to additional prosthetic teeth to close it. This not only restores the appearance of the smile, but it also helps even out the bite and prevents the other teeth from shifting out of place.
Thanks to our meticulous attention to detail and state-of-the-art technology, we can make lifelike restorations that even YOU will have trouble telling apart from your natural teeth! If you're ready to reclaim your complete smile, give us a call today about crowns and bridges.