Cosmetic Dentist in Castle Shannon
Creating Quality, Attractive Smiles
A beautiful smile doesn't just look good on the outside, it also makes a person feel good on the inside as well. Of course, it's difficult to feel anything but self-conscious about your smile if your teeth have noticeable stains, chips, cracks, or gaps. Thankfully, with cosmetic dentistry, Dr. Colleen can give everyone who comes to see us a big, bright, and confident smile they're always proud to show off. If you're ready to get rid of imperfections and achieve the smile you've always wanted, simply contact us today.
Metal-Free Restorations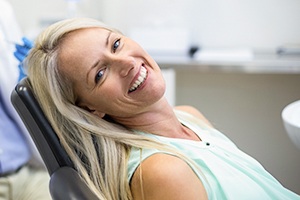 If one of your front teeth becomes damaged or decayed, we can turn back the clock and make it seem like that never happened using metal-free restorations. They can be made of a high-quality composite or ceramic material, but more importantly, we can shape and shade them to perfectly mimic natural enamel and blend in with your smile. These restorations are so lifelike, even YOU will have trouble distinguishing them from your real teeth.
Direct Bonding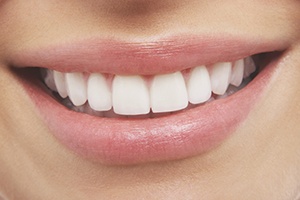 It's amazing how one little stain, crack, or gap can completely throw off the appearance of your smile, right? If you're ready to get rid of that one pesky flaw that has been bothering you for years, then direct bonding is the quickest way to do it. For this, your dentist will apply a naturally-colored composite resin to your tooth, and they'll use it to literally sculpt away any imperfection you can imagine. The entire procedure usually takes less than an hour, requires no local anesthesia, and the results can easily last for 10 years!
Teeth Whitening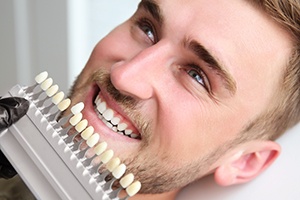 Do you ever find yourself thinking twice before smiling because of the color of your teeth? If so, then you're far from alone! We see patients every day with teeth that have been stained and discolored from coffee, wine, tea, tobacco, and even natural aging and genetics. To help these people regain that youthful glow, we're happy to offer professional teeth whitening. We'll provide you with your own customized kit specially designed for you. Just use it daily for two weeks, and it can make your smile up to EIGHT shades whiter while you sit and relax at home.
Veneers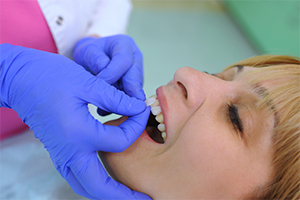 Do you have so many cosmetic flaws in your grin that you don't even know where to start fixing them? Veneers can remedy that! These ultra-thin porcelain coverings fit right over your problem teeth to correct imperfections such as chips, cracks, gaps, or discoloration. After your initial consultation, it takes just two visits to our office to design your perfect new smile. They will be practically indistinguishable from naturally perfect teeth!