Dental Implants
Tooth loss doesn't only affect your oral health. The truth is it can lead to serious consequences for your general health, your quality of life, and your self-confidence, too. Don't worry, though. Dr. Colleen offers several solutions for this serious dental problem. However, there is one option that is more effective and transformative than others. With dental implants, patients practically turn back the hands of time on their natural smile. Implants provide new teeth that feel and look perfectly natural.
What Are the Benefits of Dental Implants?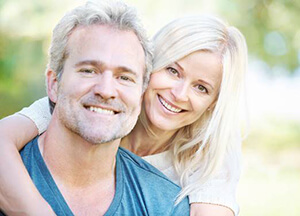 As mentioned above, there are several ways to replace missing teeth such as a bridge or denture. Why are dental implants superior to other choices? Because a dental implant replaces an entire tooth from root to crown, it is the most lifelike tooth replacement available today. Therefore, you'll be able to smile again, speak with confidence and eat a variety of foods in order to maintain a nutritious diet. All the while, your prosthetic will remain firmly in place.
In addition, the implant is surgically embedded in your jawbone, helping to support your natural facial structure. When you are missing a tooth, there is no root to stimulate new bone tissue growth. Consequently, your jaw can begin to shrink, making your face look sunken and older. This can even happen with a denture or partial that only sits on top of your gums.
How Do Dental Implants Work?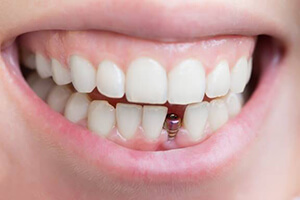 A dental implant is designed and built to perform a lot like a natural tooth. After administering a local anesthetic, the process begins when the dentist in Castle Shannon makes a small incision in your gum tissue. Then a small titanium post is surgically implanted in your jaw beneath the socket of a missing tooth. Titanium is a biocompatible metal that is commonly used in surgery, because the body readily accepts it.
As you heal over the next several months, the post and surrounding bone tissue fuse together to form a firm anchor, just like a tooth root. Once your dentist is certain the bond is secure, a beautiful restoration is attached to the post. This can be a single crown, a bridge or an implant-retained denture.
How Much Do Dental Implants Cost?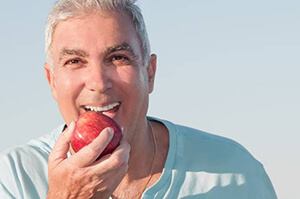 Dental implants are a worthwhile investment, so they could initially cost a bit more than other tooth replacement options. However, they may actually end up costing less in the long run because they last much longer than, say, a bridge or denture that will eventually need repair and replacement. In fact, with good oral hygiene at home and regular dental checkups, you implants can last for decades.
How Successful Are Dental Implants?
Very! Dental implant surgery has a 98 percent success rate. Before beginning treatment, Dr. Colleen will carefully examine your oral health, making sure your gums and bone structure are strong and healthy enough to support implants. So your chances of success with dental implants are very good.
Dental Implant FAQs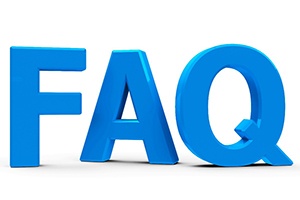 Dental implants in Castle Shannon are a nearly perfect replica of your real teeth; however, it's normal to have a few concerns before you are ready to commit to them. We know it's a big investment, which is why we will take the time to explain everything during your dental implant consultation. While you wait for your appointment, here are the answers to a few frequently asked questions.
Are dental implants removable?
No, you can't take dental implants out on your own. A dental implant is unlike any other treatment because it replicates the root using a titanium post. It is surgically placed in your jaw. The post stimulates new bone growth, allowing your jaw to fuse to the implant through a process called osseointegration. As a result, only a trained dental professional can take an implant out, such as in cases of failure. Although you can't remove the posts, some implant dentures can be taken out for easier cleaning.
What is the lifespan of a dental implant?
Dental implants are the most reliable method to replace missing teeth. They are proven to last for 30 years or longer with the right aftercare, like maintaining your oral hygiene. Various factors influence their lifespans, such as your health and lifestyle. You can ensure your new smile lasts for decades by brushing, flossing, and using a daily mouthwash. Don't forget to visit your implant dentist in Castle Shannon at least twice a year for a cleaning and checkup. It's also best to avoid anything that might damage your implants, like using your teeth as tools or chewing on inedible objects.
Am I too old to get dental implants?
Age isn't a determining factor for dental implants; however, your dentist may take certain precautions if you have specific pre-existing conditions, like cardiovascular disease or diabetes. Your dentist doesn't consider your age when performing your consultation. Instead, they look at your oral and general health. Since there are various health conditions coinciding with age, older patients may need a more customized treatment plan to ensure their safety and the success of the procedure, like bone grafting.
Do dental implants hurt?
You'll need oral surgery to place your posts in your jawbone, so it's normal to have concerns about a painful procedure. There's no reason to worry because you won't feel anything. A local numbing agent will be used along with a sedative to block pain signals. Although you won't have any discomfort during the procedure, your mouth will be tender for a few days as the effects of the anesthetics dissipate. You can take any prescribed or OTC pain relievers to manage your discomfort. Apply a cold compress to the outside of the face to manage any swelling or bruising. Your dentist will recommend eating softer foods for a few days. As your discomfort improves, you can resume your regular diet. If your pain worsens or doesn't improve after 3-4 days, contact our office for further instructions.