Restorative Dentistry in Castle Shannon
Brings Beauty Back to Smiles
Everyday wear and tear and decay can make the teeth look and feel far from their best, but when people in Castle Shannon need a little help with their smile, they can always turn to Dr. Colleen. She is a restorative dentistry expert, which means no matter what condition your teeth may be in now, she can help you regain your beautiful, complete smile. Whether you have chipped, cracked, decayed, or missing teeth, she is ready and able to fix them, so contact us today for an appointment.
Dental Implant Restorations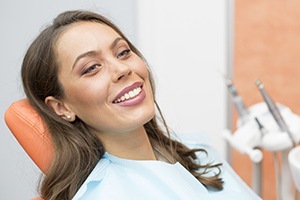 Right now, dental implants are the most reliable, durable, and natural-looking tooth replacement available today. They are the only treatment that actually restores both parts of a tooth above and below the gum line. Whether you are missing a single tooth or an entire mouthful, they can give you the next best thing to nature. At our practice, we're able to provide custom-made implant restorations that look beautiful and can be trusted to last for decades to come.
Learn More About Dental Implant Restorations
Dental Crowns & Fixed Bridges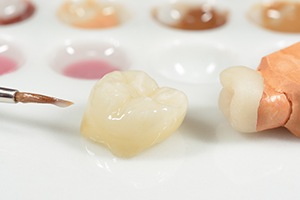 Crowns and bridges can be used to repair damaged/decayed teeth and even replace missing ones in just two easy visits. We only use the finest materials and most state-of-the-art technology to design and fabricate our restorations, so that after one is placed, only you and your dentist will know that you've had dental work!
Learn More About Crowns & Bridges
Tooth-Colored Fillings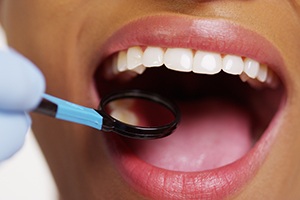 Thanks to tooth-colored fillings, we can now repair small cavities and slightly damaged teeth without leaving a large gray mark on a tooth. We can color-match these fillings to the precise shade we need so they are practically invisible in the mouth, providing a restorative and cosmetic solution all in one.
Learn More About Tooth-Colored Fillings
Dentures & Partials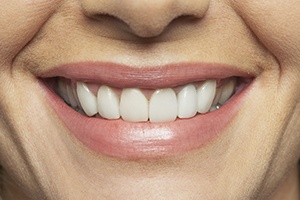 Multiple missing teeth are a problem currently faced by millions of Americans, but if you're in Castle Shannon, our practice can provide you with a complete and affordable solution using custom-made dentures. Partial dentures can replace numerous missing teeth while fitting in seamlessly with the remaining ones, while a full denture can instantly bring back an entire row. No matter what you need, we'll design a prosthetic that makes it easy for you to eat, speak, and smile with full confidence again.
Learn More About Dentures and Partials
Root Canal Therapy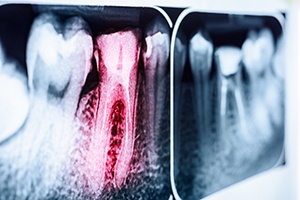 Every tooth is actually composed of three distinct layers, and the innermost one is called the dental pulp. This is where the sensitive nerve of a tooth is located, so when it becomes damaged due to either decay or trauma, it can cause a very severe toothache! Fortunately, we can use a root canal to not only fully relieve this pain, but save the tooth as well. While we're able to handle many root canals in-house, we may need to refer you to a specialist for more complicated cases to make sure you only receive the best care possible.
Tooth Extractions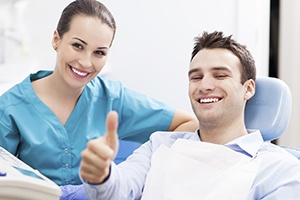 While our mission is to help our patients preserve their natural teeth for as long as possible, sometimes, the best thing we can do is simply remove one. This is often the case if:
A tooth is too damaged to be restored
Gum disease has weakened the bone supporting a tooth
A baby tooth refuses to fall out/is blocking an erupting permanent tooth
Room needs to be created for a denture
In any case, should you or your child need an extraction, we'll use a gentle touch and a generous amount of local anesthesia to keep everyone comfortable from beginning to end.