Dental Crowns
Restoring Teeth For Long-Lasting Results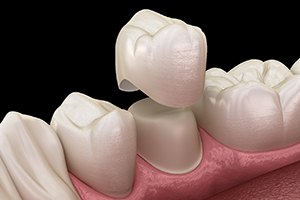 Whether your tooth has been chipped, cracked, fractured, or severely decayed, dental crowns in Castle Shannon can help completely restore their look and function. Dr. Cain uses high quality dental materials such as porcelain and ceramic to craft restorations that flawlessly blend with your surrounding teeth. That way, you don't have to worry about anybody noticing it when you laugh or smile. Plus, with the proper maintenance, you'll be able to enjoy your protected and healthy tooth for years to come. If you're experiencing any type of dental sensitivity or pain and feel as though you could benefit from a dental crown, be sure to contact our office today to schedule an appointment.
What is a Dental Crown?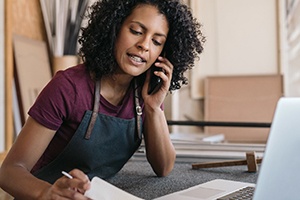 A crown is actually a tooth-shaped "cap" that simply fits over the top of a compromised tooth. We mostly use them to fix large cavities and fractured teeth, but they can also be used to cosmetically enhance misshapen teeth or those that cannot be whitened traditionally.
Depending on which tooth needs to be repaired, they can be made from a variety of materials. However, most of our patients prefer natural-looking ceramic or porcelain crowns because they perfectly incorporate with your smile. That way, you won't have to worry about them sticking out like a sore thumb.
What are Fixed Bridges?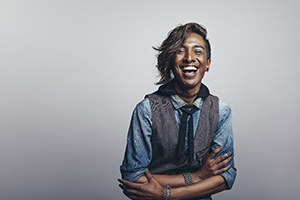 A dental bridge is a type of prosthetic we can use to replace a single missing tooth or even a few in a row. They work like this: two crowns are placed on the teeth on either side of the gap in a patient's smile, and these are bonded to additional prosthetic teeth to close it. This not only restores the appearance of the smile, but it also helps even out the bite and prevents the other teeth from shifting out of place.
Thanks to our meticulous attention to detail and state-of-the-art technology, we can make lifelike restorations that even YOU will have trouble telling apart from your natural teeth! If you're ready to reclaim your complete smile, give us a call today about crowns and bridges.
Why Do You Need a Dental Crown?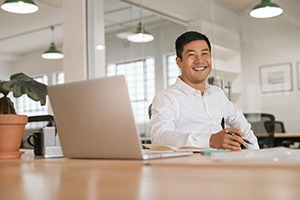 Dental crowns are an incredibly versatile solution for a variety of issues. Some problems that this restorative procedure can remedy include:
Severe decay that can't be treated with a large filling.
Forced trauma that has left your tooth cracked or damaged and weak.
After root canal therapy, a dental crown can be placed over your treated tooth to protect, strengthen, and restore the shape of it.
Fixed bridges are attached to the mouth using two anchoring crowns to replace consecutive missing teeth.
The Procedure of Getting a Crown
The process of getting a dental crown typically takes place over the course of two appointments and a few different steps which are outlined below.
Preparing your tooth by removing a small outer layer so the crown can comfortably fit over it.
Taking impressions of your tooth to send to our dental laboratory.
Applying a temporary crown to your prepared tooth while we wait for your permanent restoration to arrive.
Placing your final restoration to repair your tooth.
Making Your Crown Last Longer
Fortunately, maintaining a dental crown is fairly simple, and with the proper care, it can last for over 20 years. Just like your natural teeth, it's a good idea to steer clear of any sticky, chewy, or hard foods that could crack or damage your crown. It's also important to brush twice each day, floss daily, and rinse with antibacterial mouthwash every day to remove plaque and harmful oral bacteria. When you visit your dentist in Castle Shannon every six months for a checkup and cleaning, we'll examine your restoration and make any necessary repairs or replacements to keep you comfortable and your tooth healthy.