Emergency Dentist Serving Castle Shannon
Here When Pain Strikes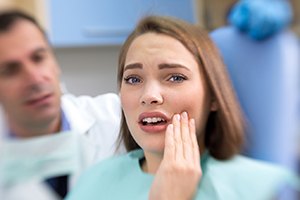 Dental emergencies always happen suddenly, unexpectedly, and at the worst possible times. No one can really anticipate a knocked out tooth or broken crown ruining their day, right? While dental emergencies can be unpredictable, the people of Castle Shannon can still have a plan should the unexpected ever happen to their smile. Thankfully, with us, that plan is simple: call Dr. Colleen.
Our dentist and our team have handled countless dental emergencies throughout the years, so no matter your situation, if you need dental care right NOW, we'll be able to help you! We always do our best to get emergency patients in on the same day that they call so no one is left waiting in pain. We'll provide the relief you need as quickly as possible, and we'll work with you to make sure the same problem doesn't pop up again in the future. Just remember, when you need an emergency dentist the most, you can count on us to be there!
Be Sure to Call Us For the Following Dental Emergencies:
Knocked out teeth
Partially dislodged teeth
Chipped, cracked, or broken teeth
Severe toothache
Abscessed teeth
Lost or damaged dental work
Object stuck between the teeth
Injury to the lips, gums, or jaw
Pain or swelling in the face
Even if you're in a situation and you're unsure whether or not it is an emergency, just give us a call, and we'll be happy to let you know what you should do next. However, if you believe that you have a broken bone, or if you can't stop bleeding after 10 minutes, please head straight to your closest emergency room first. Contact us only after you have been cleared to leave.
Dental emergencies are never pleasant (to say the least), but with our practice, we'll quickly be able to turn your emergency into a distant memory. If you or a loved one ever find yourselves feeling any kind of dental pain, just give us a call, and we'll be ready to take care of you.