Teeth Whitening – Castle Shannon
Advanced Whitening for a Brighter Smile
When your teeth are healthy but plagued with discoloration and stains, it can really dampen your willingness to smile. Some stains that appear on the surface of teeth are a result of the food and beverages you consume. But what are you supposed to do when those stains settle and travel deeper underneath the enamel layer? With the help of teeth whitening in Castle Shannon, you no longer have to settle for a smile any less than radiant.
Our office utilizes Opalescence whitening products to make your smile up to eight shades whiter on average!
How Do Stains Appear on Teeth?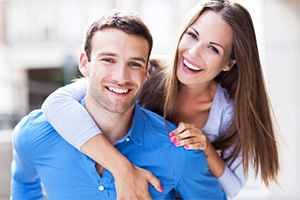 Most stains on teeth appear extrinsically, meaning they're only on the surface of enamel and can be removed in many ways without the help of professional whitening. However, once the stains remain on teeth for an extended period of time, regardless of what food or beverage that caused them, they begin to travel deeper into and past the enamel, eventually reaching the dentin layer.
This layer is much thinner than enamel and far more difficult to remove stains from. If you notice a yellow tint on your smile, even after brushing with whitening toothpaste or using other over-the-counter products, then you have intrinsic stains that require professional intervention.
What Can Teeth Whitening Solve?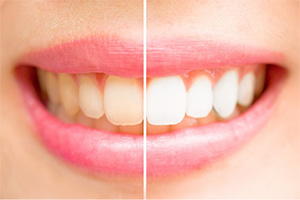 Professional teeth whitening from your cosmetic dentist in Castle Shannon works to remove stains of all different types. Most individuals who pursue whitening do so because they regularly drink coffee, wine, dark tea or colas, or other richly-pigmentated beverages that lead to intrinsic stains.
Teeth whitening can also work to remove more stubborn stains caused by tetracycline, a common antibiotic. When individuals take the drug before the age of 8, which is when teeth are still developing, it can calcify inside the dentin. As a result of this calcification, teeth can develop a gray or brown banding around them that most whitening systems can't remove.
What is Opalescence Whitening?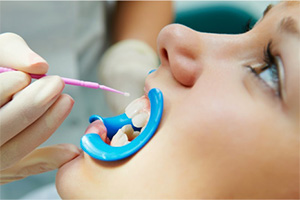 Opalescence whitening treatments work to break down stains inside your enamel and dentin layers. These teeth whitening agents work by using either carbamide peroxide or hydrogen peroxide to penetrate enamel and reach the discolored molecules in your smile. After making contact, the oxygen molecules inside the agents begin breaking down the bonds of discolored molecules in your teeth.
What's leftover is a brighter, whiter smile that you can be proud to show off anywhere!
Your Opalescence Whitening Options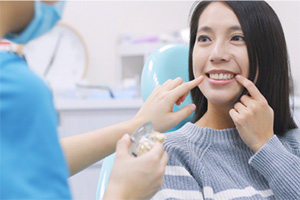 Opalescence's whitening gels can be administered through an in-office procedure or take-home whitening trays, for your convenience. Take a moment to learn more about our options!
In-House Option: This includes the Opalescence Boost Whitening, which comes with its very own pack of Opalescence GO trays for touch-ups in between visits, all for just $375. If you'd prefer to whiten teeth through the use of custom-made whitening trays, which also includes a case for the trays, a tube of whitening toothpaste, and eight syringes filled with professional-grade whitening gel, you can do that as well! These will run you $200 for a single arch or $300 for trays on both arches.
Take-Home Option: Opalescence GO – Exclusively dispensed by dental professionals, this treatment is administered through disposable, prefilled whitening trays. Simply wear them for 5 to 10 days for 15 minutes to one hour a day to achieve the same results you'd expect in-office. This option costs $65.
Opalescence Whitening Toothpaste – Less abrasive than other whitening toothpastes which makes it safe to use every day. It also strengthens your enamel, helping to prevent cavities. The cost of each tube is $10.
Ready to remove stubborn stains and achieve a truly whiter smile? Contact us and schedule an appointment today to get treated and impress friends at your next social event!
Teeth Whitening FAQs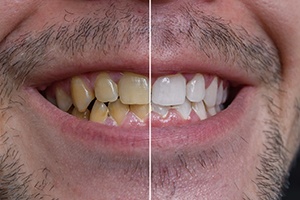 Does tooth discoloration cause people to have a poor first impression upon meeting you? Research shows an attractive smile makes a person look younger, intelligent, and professional. If you're ready to turn back the clock on your smile, your cosmetic dentist in Castle Shannon can help; however, we know you have a few concerns before you're ready to commit to the treatment. Here are the answers to a few of the most common questions patients ask us to ease any apprehensions.
Are whitening treatments bad for my teeth?
You've probably heard a few rumors claiming whitening treatments damage your enamel, but this isn't true. In fact, they are safer than ever! The whitening agents are specially formulated to deeply penetrate your enamel without causing any demineralization. They even condition your teeth to help reduce any potential for temporary sensitivity after your treatment. When used under the guidance of a trained professional and according to the manufacturer's guidelines, whitening systems are safe and effective, so you don't have anything to fear.
How much do whitening treatments cost?
There isn't a set fee for whitening treatments because the cost is based on your specific treatment plan, such as if you use an in-office or at-home solution. We'll provide you with an estimate and discuss your payment options.
Generally, dental insurance can't be used to help offset the cost because it's an elective treatment; however, every policy differs. If applicable, we will work on your behalf with your insurance company to file the necessary claim forms. We accept several payment options for any out-of-pocket balance, including third-party financing with CareCredit.
How long will my results last?
Results vary depending on several factors, like your oral hygiene routine. You can protect your investment by following a few tips:
Brush your teeth at least twice a day and floss every night.
Limit your consumption of darkly pigmented foods and drinks.
Don't smoke or use tobacco.
Visit your dentist at least twice a year for a cleaning and checkup.
Will a whitening treatment affect my restorations?
Unfortunately, whitening treatments will have very little effect on fillings, veneers, or crowns. If the color difference will be significant, your dentist in Castle Shannon may recommend having them replaced for seamless results.
What can I expect during the process?
If you're ready to brighten your smile, don't Google, "where is a dentist near me?" Instead, choose Dr. Cain. She remains current with the latest treatments and techniques to help her patients achieve their best smiles possible. After contacting our office, you'll be scheduled for your consultation to see if you're a candidate for teeth whitening. Dr. Cain will recommend either an in-office or at-home kit to help you reach your goals. An in-office procedure can get your teeth as much as 8 shades brighter in about 1 hour, while an at-home kit will take about 2 weeks to reach your goal. At the end of your treatment, you'll have a dazzling smile you'll want to show off.