Dental Cleaning & Exams
Keeps Smiles Healthy With Regular Visits
Every patient's experience at our practice always begins with a standard checkup and cleaning. Why is this the case? Because when it comes to taking care of your long-term dental health, they are simply the gold standard. With them, Dr. Colleen can catch dental problems at their earliest stages and prevent many of them from developing in the first place. She recommends that everyone over the age of three should have at least two each year in order to protect their smile from the most common dental issues (tooth decay, cavities, gum disease, etc.). Has it been more than six months since you or your child's last checkup and cleaning? If so, be sure to contact us today to schedule an appointment.
How a Dental Cleaning Works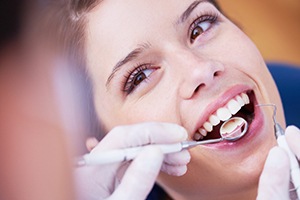 Many of our patients wonder why they need professional cleanings in addition to brushing and flossing every day. This is a good question, and one that we're happy to answer.
While daily brushing and flossing are absolutely essential, the fact of the matter is that they simply can't clean every single surface in your mouth. As a result, these hard to reach areas accumulate plaque over time that can eventually lead to cavities. An unexpected cavity is especially annoying if you consistently take care of your teeth!
With a professional dental cleaning, your hygienist will not only remove any plaque and tartar buildup on your teeth, but they'll also be able to target those aforementioned trouble spots to make sure your smile stays nice and healthy. These cleanings can also help break up minor surface stains to keep your teeth pearly white!
What is a "Checkup"?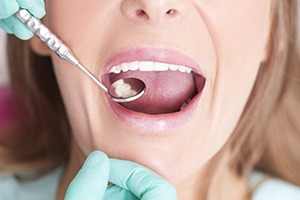 A "checkup" is really just a more casual name for an oral exam. For this, Dr. Colleen will look at each of your teeth, your gums, jaw, and existing dental work to see if she can spot any problems. By coming in for regular checkups, she'll often be able to stop dental issues even before you notice them! That way, she can mitigate any damage to your smile as well as use more conservative treatments, which will save you time and money in the long run.
To schedule your next checkup and cleaning, contact us today.