Veneers
Achieve a Smile Fit for the Silver Screen
Has your smile ever been so riddled with cosmetic imperfections that you wish you could just set the reset button on it? Thanks to veneers in Castle Shannon, now you essentially can! These restorations are custom-made for each and every patient, so they blend right in with the rest of your smile. Veneers can correct virtually any smile flaw you may have and help you achieve a smile fit for the silver screen. To get started on perfecting your smile today, just give us a call!
What Are Veneers?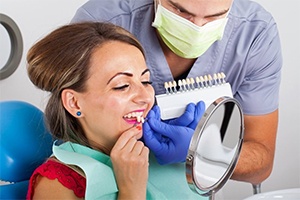 Veneers are currently one of the most popular cosmetic dentistry treatments, and for good reason. These super-thin sheaths of durable dental porcelain are bonded to the front sides of the teeth that show when you smile, also sometimes referred to as the "social six." Veneers can be completed over the course of two appointments with your cosmetic dentist in Castle Shannon, and they can be completely customized to match the size, shape, and color of the rest of your teeth.
What Problems Can Veneers Fix?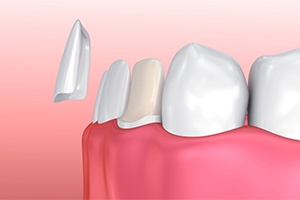 In actuality, veneers don't "fix" imperfections – they simply cover them up. Because of this, they are best used for aesthetically flawed but otherwise healthy teeth. If your pearly whites have sustained more significant damage that affects their function, you might be better off with a metal-free restoration like a dental crown.
Some of the problems that veneers are commonly used to treat include:
Uneven teeth
Slightly gapped or rotated teeth
Chipped or cracked teeth
Severely stained or discolored teeth that have not responded well to professional whitening treatments
Stubby, pointed, or otherwise misshapen teeth
The Veneers Process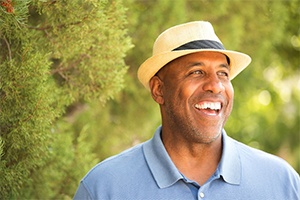 It only takes two appointments and about three weeks to drastically makeover your smile with veneers. During your initial consultation, we'll discuss your smile goals and thoroughly examine your teeth to determine whether veneers are the right treatment for you. If so, we can get started right away!
In order for the veneers to blend in with your smile and not appear bulky, a tiny sliver of enamel must be removed from the affected teeth. Once these teeth have been prepped, we'll take impressions. This information, along with details of your smile plan, will be sent off to our dental lab, where a team of skilled ceramists will craft your new smile from high-quality dental porcelain. When this process is complete (usually after a few weeks), simply return to our office and your veneers will be placed using a special bonding agent.
How Long Do Veneers Last?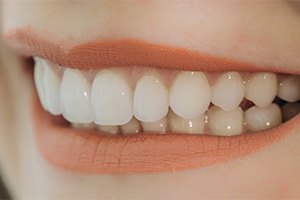 If you properly maintain your veneers, they can last for up to 20 years before we recommend replacement. Since these restorations are made of porcelain, repairing them is not typically possible – instead, the whole veneer will have to be replaced. This problem is normally due to natural changes in your teeth and gums over time and the usual wear and tear of chewing.
To help your veneers last as long as possible, keep these tips in mind:
Be diligent about brushing and flossing to keep your teeth and gums free of disease and decay.
Avoid damaging habits like biting your nails or chewing on ice.
Do not open packaging or hold bags with your teeth.
Protect your teeth with a mouthguard if you play sports or grind your teeth at night.