February 13, 2022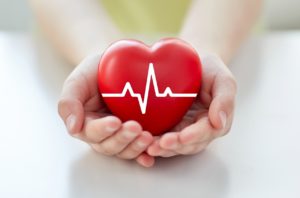 February is known for decorative cards and candy, but Valentine's Day isn't the only reason to focus on hearts. It is also American Heart Health Month, dedicated to raising awareness to factors that can affect your heart in negative ways. A poor diet or smoking aren't the only dangers to your cardiovascular system. Your dental health can also increase your risk of heart disease. As the leading cause of death in the US, here's how a healthy smile can be the first step to improving your heart health.
Gum Disease and Heart Health
Tooth decay isn't the only threat to your mouth. Gum disease is also a common cause of tooth loss. The preventable infection can destroy the supporting structures of the teeth, causing them to loosen and fall out. The complications of gum disease don't end at tooth loss. The infection can also enter your bloodstream, wreaking havoc on your general health.
Gum disease is linked to several health conditions, such as diabetes, Alzheimer's disease, and heart disease. Patients with gum disease are 2 to 3 times more likely to have a heart attack, stroke, or another cardiovascular event.
Support a Healthy Heart and Smile
According to the Centers for Disease Control and Prevention, at least 50% of adults have the infection. Although it's common, you can take several steps to safeguard your gum and heart health, such as:
Brush Your Teeth: Use a soft-bristled toothbrush and nonabrasive toothpaste to clean your teeth at least twice daily. Clean all surfaces for 2 minutes to remove food particles and plaque.
Floss Daily: Your toothbrush can't reach everywhere in your mouth, like around the gum line or between your teeth. Flossing will remove accumulations left behind by brushing. Choose high-quality floss to clean between each tooth daily.
Visit Your Dentist: Your home oral hygiene routine is only half the care your smile needs. The American Dental Association also recommends a cleaning and checkup every 6 months to prevent common oral health issues, like gum disease.
Don't Smoke: Smoking increases your risk of heart disease and affects your body's ability to fight infections. Therefore, smoking raises your risk of both gum disease and cardiovascular disease.
Don't Ignore Red Flags: The earliest stage of gum disease (gingivitis) can be treated quickly without causing long-term complications for your mouth or body. Contact your dentist right away if you experience red, swollen, or bleeding gums.
There's no better time than now to recommit to your mouth and body. Besides improving your oral hygiene habits, schedule a cleaning and checkup with your dentist to support a strong, healthy heart.
About Dr. Colleen Cain
Dr. Cain earned her dental degree at Temple University in Philadelphia. She treats patients of all ages to create generations of healthy smiles. As a member of multiple professional organizations, including the American Dental Association and the Academy of General Dentistry, she has the qualifications you can trust to keep your teeth and gums healthy. Contact our office today to schedule an appointment.
Comments Off

on A Healthy Heart Starts with Your Smile
No Comments
No comments yet.
RSS feed for comments on this post.
Sorry, the comment form is closed at this time.