August 29, 2021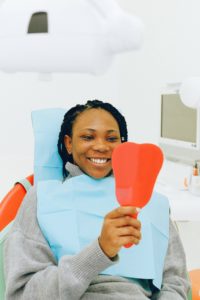 Dentists can preserve natural teeth for longer than ever using the latest advancements in dentistry. State-of-the-art technologies provide better diagnosis and precise treatment plans to support optimal oral health. When it comes to your smile, you deserve to benefit from the best, but that's not always possible if your dentist uses outdated methods. You can ensure your smile stays healthy and beautiful for decades with a dentist who offers modern services, like intraoral cameras. Here are 5 benefits of adding an intraoral camera to your dental care.
1. Leave No Issue Undetected
An intraoral camera is a tiny digital device that enables your dentist to capture high-quality images of even the most difficult-to-see areas of the mouth. As a result, they can quickly spot issues that might have otherwise been undetected. Addressing the concern quickly will prevent it from turning into a costly problem down the road.
2. Comfortable, Quick High-Quality Images
You don't need to worry about biting on uncomfortable film strips anymore. An intraoral camera is about the size of a pen. It connects to a computer that has elite software to capture images as the device is moved around your mouth. You and your dentist can view the images on the computer screen. They can be altered by your dentist to see every detail in the image.
3. Fast Results and Added Precision
Extraoral digital cameras have been used for years, but intraoral cameras offer certain advantages over the previous imaging method. Your dentist will have the images they need almost immediately. There isn't any need for retractors, mirrors, or frame shots like that of an extraoral camera. In a matter of seconds, your dentist can make a correct diagnosis while creating a more precise treatment plan, so you'll spend less time in the dental chair.
4. Better Case Documentation
Besides improving patient care, intraoral cameras have also simplified case documentation. The images are stored digitally, which makes them easier to reference to monitor treatment progression, dental insurance purposes, or referrals. You'll never need to track down images or films again because your dental history will be easily accessible.
5. Peace of Mind
Choosing a dentist who embraces the latest technologies makes them more creditable over dental practices using outdated methods. You'll have peace of mind knowing your dentist offers the most advanced treatments and uses proven solutions to ensure you're getting the best dental care.
Don't let outdated technology compromise your smile. Invest in a modern dental practice and world-class technologies to achieve a healthy smile that will last for a lifetime.
About Dr. Colleen R. Cain
Dr. Cain not only earned her dental degree, but she regularly continues her training to support clinical excellence. She combines her qualifications with revolutionary technology to deliver superior dentistry. As a Member of the American Dental Association and the Academy of General Dentistry, Dr. Cain provides the exceptional care your teeth and gums deserve. Contact our office today for an appointment.
Comments Off

on 5 Benefits of an Intraoral Camera
No Comments
No comments yet.
RSS feed for comments on this post.
Sorry, the comment form is closed at this time.