June 16, 2021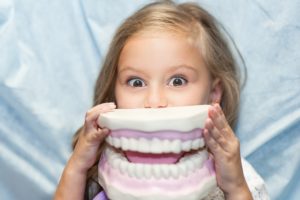 Let's face it, children don't come with instruction manuals. Sure, you can find plenty of books and guides to support their physical and emotional development, but most resources don't contain much information about children's dentistry. Did you know the health of their mouth can either positively or negatively affect their body? Although you know they need to brush and floss, there are 4 lesser-known facts you should know to nurture your child's developing smile.
1. Tooth decay is more common than asthma.
Although it's preventable, the Centers for Disease Control and Prevention estimates over 42% of children between ages 2 to 11 will have at least one cavity. As unbelievable as it might sound, cavities are 5 times more common than childhood asthma and over 20 more likely than diabetes. A solid oral hygiene routine and regular dental care will ensure tooth decay doesn't leave a lasting mark on their smile.
2. Fluoride can prevent cavities.
You can safeguard your child's teeth from cavities by encouraging brushing and flossing, limiting sweets, and maintaining semi-annual dental appointments. Did you know there's another step you could be taking to keep cavities at bay? Adding fluoride to your child's day can strengthen their enamel to make it more resistant to cavity-causing bacteria. Besides choosing fluoridated dental products, tap water is a great source of the mineral. Their dentist can also provide a fluoride treatment during their routine visits to further strengthen their enamel.
3. Candy isn't the only source of cavities.
You know you need to limit your child's consumption of sugary treats and drinks, but candy and cookies aren't the only contributors to decay. Breads and crackers contain starches that can also cause acid-producing bacteria that will erode their enamel. It's always best to choose healthy snacks, like low-fat cheese and fresh fruits or vegetables. If you give in to their sweet tooth, have them brush their teeth well after they have finished their treat.
4. Children should see a dentist before their 1st birthday.
It might seem a bit young because your child only has a few teeth, but their dentist recommends meeting them before they turn one year old. Early dental care helps your child to feel comfortable when it's time to visit the dentist for stress-free appointments. It also allows their dental team to monitor their growing smile to detect any concerns while they are still small. They will provide the appropriate intervention while teaching your child the importance of caring for their teeth and gums. With the right care at home and from their dentist, they can enjoy a healthy smile that lasts.
About Dr. Colleen R. Cain
Dr. Cain earned her dental degree at the Temple University in Philadelphia to treat patients of all ages, including children. She provides the gentle, compassionate care young smiles need to thrive. As a member of the American Dental Association and several other professional organizations, you can feel confident your child's smile is in good hands. Contact our office today for an appointment.
Comments Off

on 4 Facts About Your Child's Dental Health
No Comments
No comments yet.
RSS feed for comments on this post.
Sorry, the comment form is closed at this time.