April 20, 2021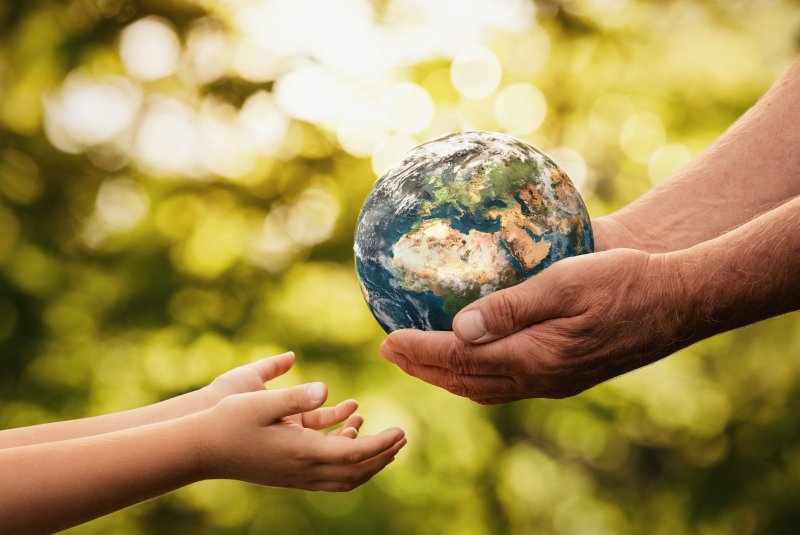 Earth Day is nearly here! Whether you like to spend time camping in the great outdoors or prefer to lounge on the beach when the weather gets nice, you are appreciating the beautiful planet that we live on. There is no better time to come together to give back to the Earth. One way that you can do this is through eco-friendly oral hygiene products. Continue reading to learn about some great dental tools that don't put as much strain on our ecosystem.
Bamboo Toothbrush
You may think that your toothbrush is small, and that amount of plastic isn't making too much of a difference to the planet, but you need to remember that there are over 7 billion people on Earth! A large percentage of us are still using plastic toothbrushes, and they add up over time. One way that you can do your part for the environment is by investing in a bamboo toothbrush instead. Bamboo is a great material because it is sturdy, grows quickly, and is biodegradable. This way, you can keep your teeth and gums healthy without putting a strain on the environment.
Eco-Friendly Floss
The standard container of floss that you buy comes for a container that is made from plastic. Single-use plastic floss picks are even worse. If you use one floss pick every day, think about how much they accumulate over years and years. This Earth Day, you may want to consider switching to eco-friendly floss in order to limit your use of plastic. Look for a biodegradable silk floss. You can even find some that is sold in glass or cardboard containers.
Water Pick
This isn't a replacement for floss entirely, but it can help you to keep your smile extra fresh without the need for additional plastic. Water picks are handheld devices that you can use to shoot a high-powered stream of water between each tooth in order to dislodge plaque and debris from your teeth and gums. This way, you can keep your smile healthy without harming the planet.
Wasteless Mouthwash
Mouthwash is great for keeping your smile extra clean, but those big plastic bottles that your mouthwash come in aren't the best option. Instead, look for zero-waste mouthwash tablets. They usually come in glass containers and you just need to drop one into a cup of water. This helps to minimize the amount of plastic that you use on a daily basis.
This Earth Day, take some time to give back to the planet. By maintaining your oral hygiene with some of these products, you are taking one more step to contribute to a healthier, flourishing planet!
About the Author
Dr. Colleen Cain is an experienced dentist who has been working in the field for over a decade. She earned her dental doctorate from the Temple University in Philadelphia. Currently, she is a proud member of numerous professional dental organizations, including the American Dental Association, Pennsylvania Dental Society, and the Academy of General Dentistry. For more information on oral hygiene or to schedule an appointment at her office in Pittsburgh, visit her website or call (412) 343-9999.
Comments Off

on Eco-Friendly Oral Hygiene Products for Earth Day
No Comments
No comments yet.
RSS feed for comments on this post.
Sorry, the comment form is closed at this time.