December 11, 2020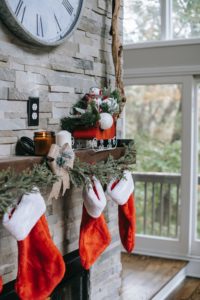 As you enter the holiday season, you're on the hunt for the perfect gifts to tuck away in your loved ones' stockings. Although there are plenty of sweet treats to choose from, why not give them the gift of a healthy smile? There are many amazing stocking stuffers your family will love while also promoting their dental health throughout the holidays and into the year ahead. Here are the top 3 stocking stuffers recommended by your dentist.
1. Fun Toothbrush
Children and adults love fun toothbrushes. Instead of a boring manual toothbrush, choose an electric model that comes with various exciting features, like lights, music, and pressure sensors. An electric model will make brushing more enjoyable and effective because it offers more brush strokes per minute. Your family will benefit from a more thorough clean to keep their teeth and gums healthy. When choosing toothbrushes, pick those that have soft bristles and have earned the American Dental Association's Seal of Approval.
2. Exciting Dental Products
In addition to new toothbrushes, include a variety of dental products in the stockings. Children love fun-flavored flosses, which will make it feel like less of a chore. Whether it's bubblegum or fruity flavored, be sure to include those that have the ADA's Seal of Approval. Adults can benefit from mouthrinses that cater to their specific oral health needs, like combating dry mouth. Dental flossers are an excellent idea for older adults who might have difficulty holding standard floss. If a loved one plays sports, include a professional athletic mouthguard to protect their teeth and gums while they enjoy their favorite pastime.
3. Healthy Snacks
It's best to skip the sweet treats to protect your family's smiles from tooth decay, but there are many tasty alternatives you can include. Nuts, raisins, and sugar-free gum are excellent additions to anyone's stocking. If you can't skip the candy, it's best to choose chocolate because it's easier to remove from the teeth to ensure harmful sugars aren't lingering in the mouth. Encourage them to brush and floss their teeth well after they have finished their treat.
Invest in a Healthy Smile
As you pack stocking stuffers promoting your family's dental health at home, don't forget to schedule their second hygiene appointment with their dentist in South Hill. Although the holidays are busy, a cleaning and checkup will ensure there aren't any untreated issues that can lead to a dental emergency during the next few weeks. Your family can start the new year with a healthy, beautiful smile through the power of preventive dentistry.
About Dr. Colleen R. Cain
Dr. Cain earned her dental degree from Temple University in Philadelphia. She strives for excellence, which is why she regularly continues her training to provide high-quality services. She is a member of various dental organizations, including the American Dental Association and the Academy of General Dentistry. She offers specialty services like teeth whitening in Castle Shannon. If you need an appointment, don't Google "dentist near me." Instead, contact our office today to benefit from advanced dental care.
Comments Off

on 3 Smile-Friendly Stocking Stuffers
No Comments
No comments yet.
RSS feed for comments on this post.
Sorry, the comment form is closed at this time.