October 13, 2020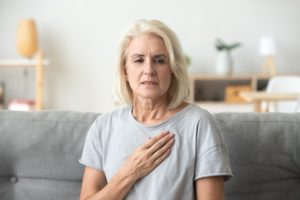 Even though you think of your dental visits as a place you get your teeth cleaned and your gums looked at, there is much more to your regular checkups than just examining for oral health issues. During your appointment, your dentist checks for abnormalities that could indicate that you are suffering from a severe health condition elsewhere in the body. Continue reading to learn more about just some of the different health issues that could become apparent during a dental checkup in Castle Shannon.
Crohn's Disease
Some signs of Crohn's disease are swollen lips and dime-sized ulcers on the inside of the cheeks and lips. Usually they have a white center with a red halo circling it. If your dentist suspects that you may have Crohn's disease, they will recommend that you see your family doctor in order to get to the root of the issue.
Diabetes
Patients who have diabetes are much more likely to get gum disease. If your dentist notices bleeding, receding gums, a dry mouth, or wiggly teeth, this could be an indication of an underlying issue. However, these symptoms could also be a cause of poor oral hygiene, so diabetes isn't always considered unless there are other risk factors. Since diabetes and oral health are so closely linked, if your dentist suspects this health condition, they'll probably recommend a blood test from a primary care doctor.
Anemia
According to the World Health Organization (WHO), anemia affects approximately 1.62 billion people in the world, which is about 24.8% of the global population. This condition is when the body doesn't have enough red blood cells circulating. It can sometimes be detected in the mouth by a dentist because it can cause the lining of the mouth to appear very pale and the tongue can lose its bumpy texture.
Osteoporosis
This condition is difficult to detect because there aren't too many symptoms. Most people don't know they have it until they get a bone fracture or take a bone density test. By going to the dentist, they may be able to detect it by picking up on jawbone shrinkage. This could mean that it's occurring elsewhere in the body as a result of osteoporosis.
Heart Disease
When a dentist notices that a patient has swollen, bleeding gums, this could be a warning sign that they have heart disease. Gum disease may put you at risk for both coronary artery disease and heart disease because the bacteria in the mouth could travel to your heart and either form blood clots or build up plaque in your arteries.
Get on track with regular cleanings and checkups if you aren't already. You never know what you could learn about your body. Finding health conditions early on is important in order for you to get the best possible treatment.
About the Author
Dr. Colleen Cain earned her Doctor of Dental Medicine from Temple University in Philadelphia and has been practicing for a decade. She is a member of numerous professional organizations including the American Dental Association, Pennsylvania Dental Society, and the Academy of General Dentistry. For more information on dental checkups or to schedule an appointment at her office in Pittsburgh, visit her website or call (412) 343-9999.
Comments Off

on 5 Health Issues Your Dentist Might Find First
No Comments
No comments yet.
RSS feed for comments on this post.
Sorry, the comment form is closed at this time.