August 4, 2020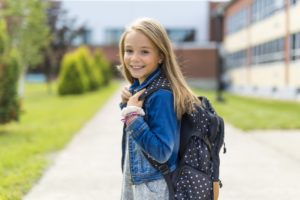 Back to school season is here! Although the start of the semester may look a little different in light of COVID-19, it is more important now than ever to set your child up for success. Initially, you may think that entails charging up their laptop, purchasing their school supplies, and getting back into a routine. But did you know their oral health can directly impact their school performance? A children's dentist in Castle Shannon shares the importance of their end-of-summer visit and eight good oral health habits to start today.
What the Research Says About Oral Health and School Performance
Did you know that 34 million hours of school are missed each year due to dental issues? However, that isn't the only way oral health can affect your child's school performance. In fact, the Centers for Disease Control and Prevention reported that about 20% of children between the ages of 5 and 11 have at least one untreated, decayed tooth. Plus, an additional 13% of adolescents between 12 and 19 have the same issue. Not only can this result in cavities, but the discomfort stemming from the decay can lead to difficulty focusing in class as well. Therefore, it is important to prioritize their bi-yearly visit before the school year starts!
8 Good Oral Health Habits to Start Today
For many, the stay-at-home orders meant your typical routine became a distant memory. However, there is no time like the present to start implementing good oral health habits for both you and your child! To ensure your teeth and gums are in tip-top shape until your next dental visit, make sure to:
Brush your teeth for two minutes twice a day.
Floss daily.
Rinse with mouthwash regularly.
Never skip your tongue.
Use a soft-bristled toothbrush.
Limit sugary beverages and snacks.
Drink plenty of water throughout the day.
Incorporate vitamin-rich foods into their diet (i.e., leafy greens, fresh fruit, etc.).
Amid the chaos of preparing for school during a pandemic, it can be easy to justify putting off your child's routine dental checkup. Nevertheless, it is important to remember that their oral health directly impacts their success in the classroom. So, schedule their bi-yearly appointment as soon as possible!
About the Author
After earning her undergraduate degree from Washington and Jefferson College in Washington, PA, Dr. Colleen Cain completed her Doctorate in Dental Medicine from Temple University in Philadelphia. By combining exceptional clinical skills and a genuine passion for her patients, Dr. Cain focuses on treating people, not just their teeth. If you would like to schedule your child's bi-yearly appointment, don't hesitate to visit her website or give her a call at 412-343-9999.
Comments Off

on Want Your Child to Succeed in School? Take Care of Their Smile!
No Comments
No comments yet.
RSS feed for comments on this post.
Sorry, the comment form is closed at this time.