June 14, 2022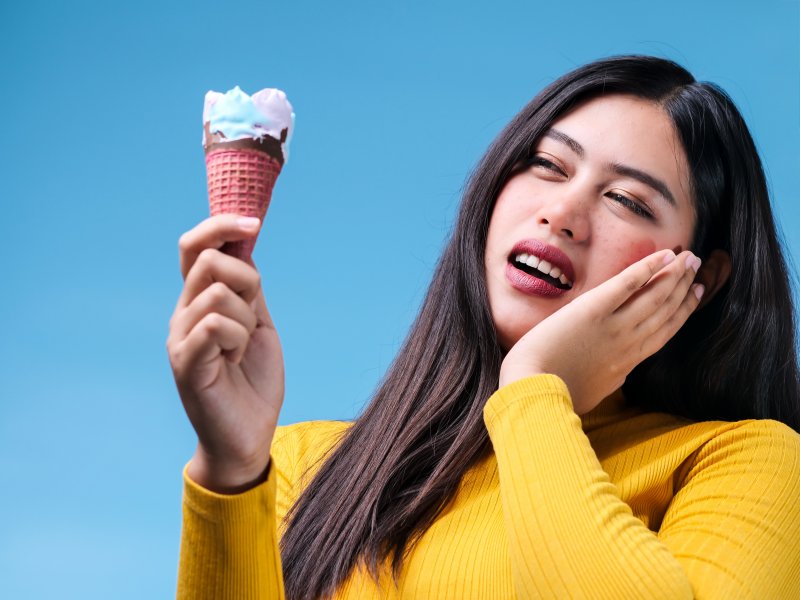 Are you struggling with multiple minor flaws in your teeth, such as chips, cracks, or stains? If you want to get the ultimate smile makeover, then you're probably considering getting veneers! This treatment can address most imperfections by changing the color, size, and shape of your pearly whites. However, since you'll need to have a small amount of your enamel removed for your veneers, you may wonder if this'll cause teeth sensitivity. Keep reading to learn what you should expect from the procedure.
Will You Experience Tooth Sensitivity From Veneers?
To make room for your porcelain shells, your dentist will need to first remove a tiny portion off the front of your enamel. This will allow your veneers to fit seamlessly with the rest of your natural smile. For this reason, some patients may experience minor tooth sensitivity for several days to a few weeks after their procedure. If these sensations last for more than two to three months or worsen over time, then this can be a sign of an underlying issue that'll need to be addressed by your dentist right away.
Although some patients might feel sensitive to veneers, this treatment can typically help relieve it. Once they're cemented to the front of your teeth, they can stop hot or cold foods from touching your weakened enamel. This likelihood can vary depending on your specific dental situation. That's why you'll need to consult your dentist before undergoing the procedure, so they can determine if you have sufficient and healthy enamel for your veneers to bond to.
How Can You Manage Tooth Sensitivity?
Even if you do experience tooth sensitivity after getting veneers, you can try alleviating the symptoms with the following methods:
Taking over-the-counter pain relievers: If you're feeling sore or sensitive after your procedure, be sure to use OTC pain medications as directed.
Rinsing your mouth with saltwater: This can help decrease sensitivity, reduce any swelling, and improve your mouth's pH levels.
Keeping a mindful diet: Certain foods can naturally increase sensitivity, such as hot/cold items like coffee or ice cream. Be sure to also moderate your intake of processed, acidic, fatty, and sugary drinks and foods.
While porcelain veneers can temporarily increase teeth sensitivity, you can help reduce the sensation with these few tips. In time, any discomfort should go away on its own and you'll be able to enjoy your new and improved smile. Speak with your dentist if the symptoms persist, and they'll be happy to address the issue!
About the Author
Dr. Colleen Cain earned her dental doctorate from Temple University in Philadelphia. She's also a proud member of several organizations such as the Academy of General Dentistry, the Pennsylvania Dental Society, and the American Dental Association. She offers a wide variety of high-quality treatments, including veneers to enhance your pearly whites. If you'd like to schedule a consultation, visit her website or call her at 412-343-9999.
Comments Off

on Do Veneers Cause Tooth Sensitivity?
No Comments
No comments yet.
RSS feed for comments on this post.
Sorry, the comment form is closed at this time.