May 16, 2022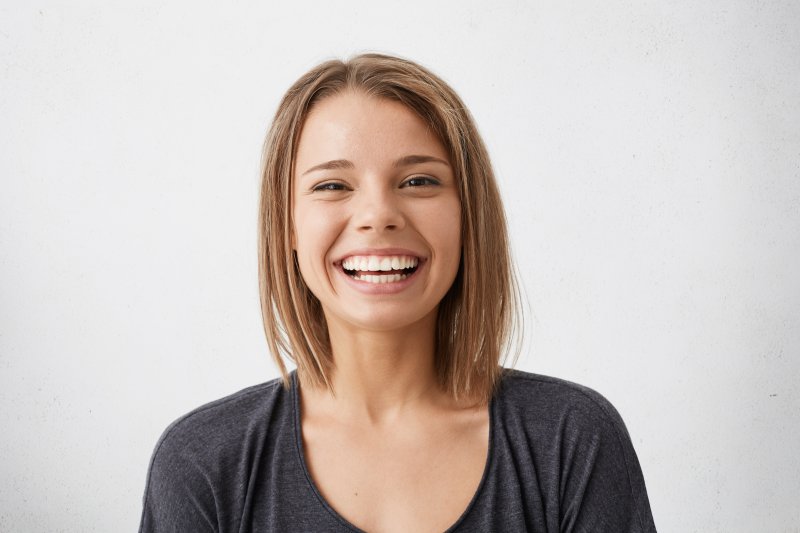 When it comes to smiles, many people dream of having bright, white, and brag-worthy teeth. from eating right to practicing good oral hygiene, there are several ways you can work to prevent them from becoming yellow and dull, but what does it mean if your teeth start to look gray? Read on to learn about five things that may cause your teeth to turn gray and what can be done to fix this cosmetic issue.
Cause #1: Dentinogenesis Imperfecta
This, rare hereditary tooth development disorder may cause the primary and permanent teeth to turn gray or blue. Dentinogenesis imperfecta may also result in teeth that are weaker than average, which makes them more likely to chip or break.
Cause #2: Dental Restorations
If you have metal restorations like dental crowns or fillings, this can cause the treated teeth to look blue or gray in color. Since a lot of modern restorations are made using tooth-colored material, this is a more common issue for those with older dental restorations.
Cause #3: Tetracycline
Tetracycline is an antibiotic that's often used to fight infections. According to the Journal of International Oral Health, adults may have discolored teeth if they were exposed to this antibiotic as a fetus. This discoloration will appear as bluish-gray or yellowish-brown horizontal stripes.
Cause #4: Aging
Tooth enamel naturally begins to wear away as we age. This allows the dentin, which is the yellow layer of the tooth located under the enamel, to show through. As a result, your smile may give off a yellow or grayish-blue appearance.
Cause #5: Dead Teeth
If tooth decay gets bad enough, it can cause the tooth to die. Trauma from a blow to the face is another potential cause of a dead tooth. Blue or gray teeth may be a sign that this has happened to your tooth, which means that you'll either need root canal therapy or to have it extracted. It may take several years after the severe decay or injury for the tooth to change color, which can make it difficult to identify the cause.
4 Treatments for Gray Teeth
Though blue or gray teeth may be a sign of a medical condition, injury, or oral health issue, there are several ways that your dentist can correct the way they look, including:
Porcelain veneers – These are thin porcelain shells that cover the entire front surface of a tooth.
Teeth whitening – This can lift stains and even out the color of one's smile.
Dental crowns – These completely encircle the visible part of a tooth to protect it from harm as well as mask cosmetic issues like discoloration.
Dental filling – These are often used to treat cavities and can also correct gray teeth.
If you have gray teeth, speak with your dentist about having them fixed. They will help you set up an appointment to determine the cause and administer the care you need to get your pearly whites back on track!
About the Practice
Dr. Colleen R. Cain leads a talented team of Pittsburgh oral health professionals who are here to help patients achieve gorgeous, healthy grins. If you have gray teeth, they will do what they can to determine the cause and offer cosmetic and restorative treatments to improve the look of your smile. To set up an appointment with Dr. Cain​ or for more information on solutions for gray teeth, call (412) 343-9999 or visit their website.
Comments Off

on 5 Causes of Gray Teeth and How to Fix Them
No Comments
No comments yet.
RSS feed for comments on this post.
Sorry, the comment form is closed at this time.