September 7, 2021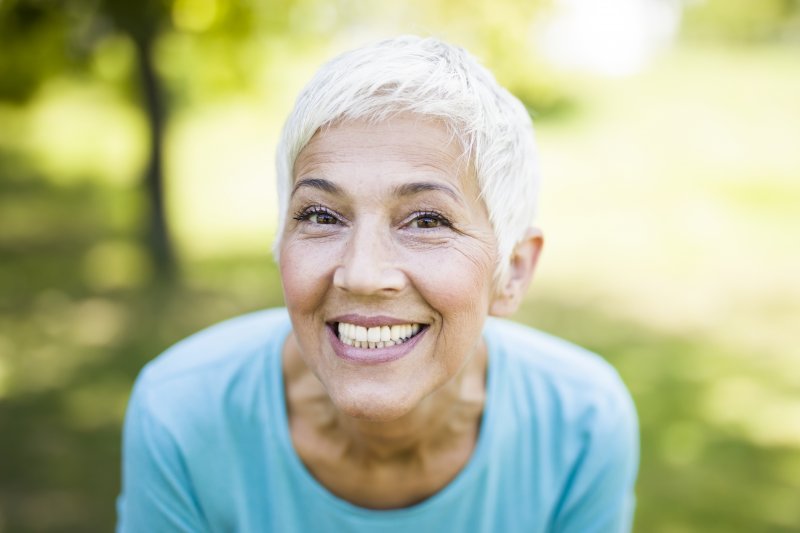 According to the US Census, the number of US adults ages 65 or older is expected to reach 98 million by 2060. That means that 24% of the overall population will be considered senior citizens. As we age, our risk of certain dental health problems increases which means finding the right dentist for seniors is crucial. Here are some simple dental hygiene tips to keep your smile shining bright well into your twilight years.
Oral Health Risks
Though dental problems can arise at any age, some oral health problems are more common for older adults. Untreated tooth decay can be found in 96% of adults ages 65 and older. Approximately 1 in 5 adults in this age group suffer from tooth loss, and 68% have some level of gum disease. Oral cancer is also more likely to be diagnosed in older adults, and many medicines prescribed to seniors can reduce saliva production leading to cavities. Diseases or drugs that affect the immune system can also lead to thrush, a condition that results from overgrowth of fungus in the mouth. Since many older adults neglect to replace missing teeth, this can lead to an uneven jawbone. Seniors also often wear false teeth, so denture-induced stomatitis from ill-fitting dentures is another concern. This can also be caused by poor dental hygiene or fungus.
Dental Hygiene Tips for Seniors
Since plaque can build up quickly on seniors' teeth and lead to tooth decay or gum disease, proper care is imperative to maintaining good oral health. Tips on how to do so include:
Brush your teeth twice per day with a fluoride toothpaste and floss at least once per day
Drink plenty of water, chew sugar-free gum, and avoid alcohol to increase oral hydration
Ask your doctor to substitute your medication for one that doesn't cause dry mouth
Rinse your mouth with an antiseptic mouthwash or antibacterial mouth rinse to reduce plaque and gum disease causing bacteria
Regularly visit the dentist for cleaning and oral exams
Avoid use of tobacco products which are linked to an increased risk of mouth and throat cancer, heart disease, and other serious conditions
Get the recommended amount of calcium in order to keep your teeth strong
Monitor your sugar intake and brush shortly after snacking
Care for your dentures by following your dentist's instructions carefully
By understanding what dental complications are more likely to arise as you age, you and your dentist can work together to take care of your teeth so you can keep them for a lifetime.
About the Author
Dr. Colleen Cain earned her undergraduate degree in Cell and Molecular Biology from Washington and Jefferson College and her Doctorate in Dental Medicine from Temple University. Her mission is to change the way people perceive dentists. Since 2010, she has been treating patients of all ages. She is a proud member of numerous dental organizations and loves getting to know her Pittsburgh patients. For more information on how to properly care for your teeth as you age, call us at (412) 460-4373 or visit our website.
Comments Off

on Dental Hygiene Tips for Seniors – Keep Your Smile Bright!
No Comments
No comments yet.
RSS feed for comments on this post.
Sorry, the comment form is closed at this time.