March 4, 2021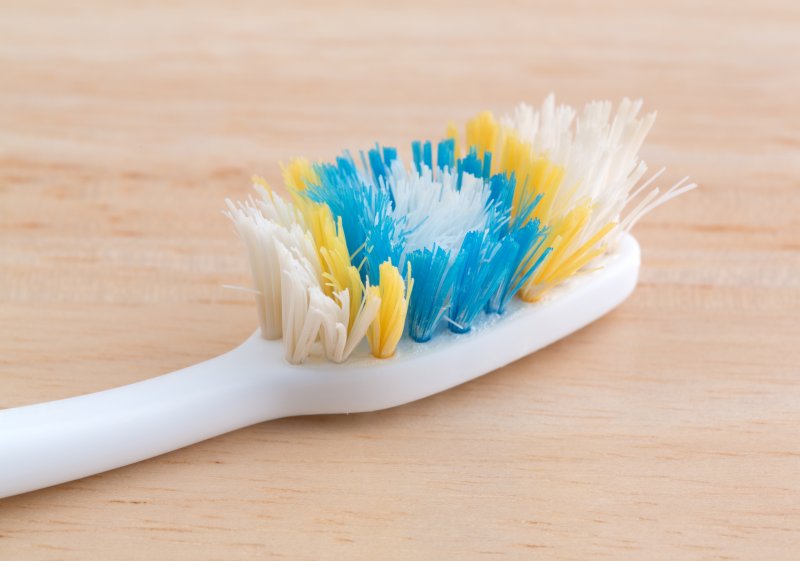 When was the last time you got a new toothbrush? Whether you use an electric or manual toothbrush, it doesn't do much good if it's old and frayed. In order to have excellent oral hygiene, you need all of the proper dental tools, and an old toothbrush is not one of them. But at what point should you invest in a new one? Spring cleaning may be the perfect time! Continue reading to learn when you should switch out your toothbrush as well as some steps you can take to make yours last as long as possible.
When Should You Replace a Manual Toothbrush?
Manual toothbrushes are affordable and easily accessible. They also do a great job at keeping your smile clean as long as you have a good technique. According to the Centers for Disease Control and Prevention (CDC), you should be replacing your manual toothbrush about every three to four months. After having it for this long, the bristles will be frayed, and it won't be nearly as effective at removing food debris, plaque, and bacteria. The more that's left behind, the higher the probability of developing cavities and gum disease in the future.
When Should You Replace the Head of an Electric Toothbrush?
If you have an electric toothbrush, it should be replaced about every 12 weeks. This needs to happen more often because the bristles on electric toothbrushes tend to be shorter than the bristles on manual brushes. This means that they fray more quickly and need to be replaced more often. You may even want to consider switching it out even earlier once you notice that there's some wear and tear.
How Do You Make Your Toothbrush Last Longer?
Here are some tips that can help you make the most out of your toothbrush:
Don't store your toothbrush in a place where it may make contact with another one. This will spread bacteria.
After you use your toothbrush, always give it a rinse.
Don't share a toothbrush with anyone else, even if you are very close.
Never keep your toothbrush in a closed container. This is the perfect environment for bacteria and mold to thrive.
Don't use soap, disinfectants, or mouthwash to clean your toothbrush.
Having an excellent oral hygiene routine is necessary in order to keepyour dental health in good shape, and that includes having a toothbrush that is in good condition. By replacing your toothbrush when needed and seeing your dentist for regular cleanings and checkups, you will be well on your way towards keeping up a strong, healthy smile!
About the Author
Dr. Colleen Cain is an experienced dentist who has been working in the field for over a decade. She earned her Doctor of Dental Medicine from Temple University in Philadelphia. Currently, she is a member of numerous professional organizations, including the American Dental Association, Pennsylvania Dental Society, and the prestigious Academy of General Dentistry. For more information on proper oral hygiene or to schedule an appointment at her office in Pittsburgh, visit her website or call (412) 343-9999.
Comments Off

on How Often Should You Switch Out Your Toothbrush?
No Comments
No comments yet.
RSS feed for comments on this post.
Sorry, the comment form is closed at this time.