July 7, 2020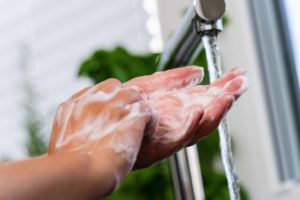 Did you know that dentists have always been excellent at infection control, even before the COVID-19 pandemic? They follow strict hand hygiene protocols to keep you safe from sicknesses like the common cold and the flu every time you visit them. However, these ambitious sanitation standards have been raised even more to protect you from the coronavirus. Here are eight ways your Castle Shannon dentist and their team keep their hands clean during COVID-19.
1.) Advanced COVID-19 Training
Before reopening their practice, every team member completed additional COVID-19 training. This extra information covered the most effective ways of preventing the spread of the coronavirus, including best practices for hand hygiene.
2.) Regular & Thorough Handwashing
A long-standing dental safety protocol in Castle Shannon is excellent hand hygiene. Now and always, your dentist and their team wash their hands for 20-30 seconds throughout the day, including:
Before and after treating each patient.
Before leaving the practice and as soon as they return to it.
3.) Touch-Free Greetings
Until the threat of COVID-19 passes, your dental team won't be giving out handshakes or hugs. To keep their hands germ-free, they'll be using a variety of fun, touch-free greetings instead.
4.) Enhanced Personal Hygiene Standards
To ensure their handwashing is as effective as possible, your dental team will be expected to:
Maintain short, clean fingernails.
Refrain from wearing hand jewelry like rings and watches.
5.) CDC Instrument Sterilization
Every dental instrument is thoroughly sterilized between patients to eliminate any remaining particles. The entire tool is disinfected through advanced CDC procedures like high heat, steam under pressure, and chemical vapors.
6.) Social Distancing Measures
Many areas of the practice have been rearranged to keep patients and staff healthy:
Helpful signs, fewer chairs, and one-way traffic areas allow for social distancing.
Toys, magazines, and other frequently touched objects have been temporarily removed.
7.) Hospital-Grade Sanitizer
Hand sanitizing stations have been set up in the reception area. Staff and patients alike will be asked to use the hospital-grade sanitizer before entering the clinical area of the practice.
8.) Frequent Disinfecting & Nightly Deep Cleaning
Your dental team is going above and beyond to ensure their practice is just as clean as their hands by:
Disinfecting all equipment and surfaces after every patient.
Sanitizing the practice from top to bottom every night.
Your Castle Shannon dentist and their team have years of experience keeping both your smile and their hands clean and healthy. If you need to visit them during the COVID-19 pandemic, you can feel confident that your wellbeing is in prepared, capable, and clean hands.
About the Author
Dr. Colleen Cain's top priority is the wellbeing of her patients, staff, and the entire community of Pittsburgh, PA. After monitoring the COVID-19 pandemic and the recommendations of the CDC carefully, she has established 26 additional infection control protocols. These extra precautions are designed to keep you as safe as possible during your appointment and add peace-of-mind to the excellent dental care you've come to expect. If you'd like to learn more about her Commitment to Safety, she can be reached via her website or at (412) 343-9999.
Comments Off

on Hands Up: How Your Dental Team Keeps Them Clean in COVID-19
No Comments
No comments yet.
RSS feed for comments on this post.
Sorry, the comment form is closed at this time.