June 17, 2020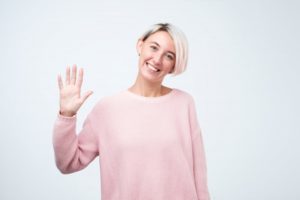 The COVID-19 pandemic has changed many aspects of our lives that we once took for granted, including how we greet others. No hugs or handshakes is a new dental safety protocol in Castle Shannon that plays a key role in preventing the spread of germs. So how are you supposed to say hello to those around you while practicing social distancing? Your Castle Shannon dentist shares nine creative, touch-free ways to safely greet others during the coronavirus pandemic.
1.) A Friendly Wave
Perhaps the simplest and most widely used contactless greeting is a friendly wave. This classic way to say hello or goodbye can go a long way in connecting with those around you.
2.) Bow
Bowing is a respectful way to communicate sentiments like hello, goodbye, I'm sorry, and thank you. Try giving a slight bow as a touch-free way to enter or exit a conversation.
3.) Hand Over Heart
Recently, WHO Director-General Tedros Adhanom Ghebreyesus demonstrated this dignified yet friendly greeting by placing his right hand over his heart and smiling.
4.) Namaste
The Namaste is traditionally used in Southeast Asia, but it is also used in Western varieties of meditation and yoga as well. Express gratitude and respect by pressing your palms together at your heart and bowing your head slightly.
5.) Shaka
For a laid-back greeting with an island-vibe, try the shaka. First, make a fist, then extend your pinky finger and thumb. This gesture is popular among surfers and beachgoers.
6.) Footshaking
Instead of shaking hands with someone, why not "shake" feet? Tapping another person's foot with your own minimizes the risk of transferring germs. Just be careful not to lose your balance!
7.) Blow a Kiss
When your children were little, did you teach them to say hello or goodbye by blowing a kiss? This playful greeting can be used in some situations today, as long as you don't touch your fingers to your lips.
8.) Air High-Five
If you're looking for an enthusiastic way to interact with those around you, why not give an air high-five? Simply stop a few inches away from making contact to practice this familiar greeting safely.
9.) Just Say Hello
Greeting others in the pandemic doesn't have to be new or complicated. Simply saying hello or goodbye with a sincere smile can be just as meaningful as any other contact-free greeting.
It's undeniable that COVID-19 has changed many aspects of our lives, but it hasn't changed the importance of a heartfelt hello. Continue to practice social distancing while interacting with others with any of these nine creative touch-free greetings!
About the Author
Nothing is more important to Dr. Colleen Cain than the wellbeing of her patients, staff, and the community of Castle Shannon, PA. To ensure her practice is as safe as possible, she has been closely monitoring the COVID-19 pandemic and adjusting her infection control protocols accordingly. To add peace-of-mind to the exceptional dental care you've come to expect, she has added 26 additional safety precautions. If you want to know more about her Commitment to Safety, she can be contacted via her website or at (412) 343-9999.
Comments Off

on 9 Healthy Hellos That Won't Spread Germs in COVID-19
No Comments
No comments yet.
RSS feed for comments on this post.
Sorry, the comment form is closed at this time.