April 16, 2020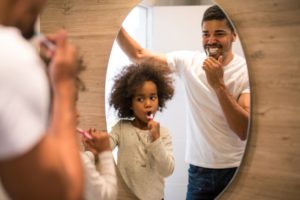 Improving your at-home oral hygiene may lower your risk of catching COVID-19. The coronavirus is transmitted when infected respiratory droplets are dispersed via coughing, sneezing, and sometimes even breathing. Since our mouths play a key role in spreading and receiving these infected droplets, it's important that we pay close attention to how we clean our smiles. Read on to discover seven at-home dental habits from your Castle Shannon dentist that can help keep you and your smile safe from COVID-19.
1.) Wash Your Hands Before Brushing Your Teeth
The Centers for Disease Control and Prevention strongly encourage frequent handwashing to clear away viruses and germs of all kinds, including the coronavirus. Since your hands come in such close proximity to your mouth as you brush, washing your hands is an excellent addition to your daily dental routine.
2.) Make Oral Hygiene a Family Effort
To keep your household healthy, everyone needs to do their part, including:
Children, who may forget to wash their hands or store their toothbrushes properly.
Family members with dentures, who need to wash their hands before removing or replacing them and remember to disinfect them every night.
3.) Don't Share Your Toothbrush or Floss
Sharing a toothbrush or floss with someone also means sharing their bacteria. Studies indicate that COVID-19 symptoms may not be present until days after becoming contagious, so you could be sharing dental devices and germs with someone who is already sick, or vice versa.
4.) Disinfect Your Toothbrush
Clean away lingering bacteria on your toothbrush by:
Swirling the bristles in a cup of water with two teaspoons of baking soda dissolved into it.
Soaking your toothbrush in vinegar overnight once a week.
5.) Put Your Toothbrush Away Properly
Bacteria thrive in warm, damp, and dark areas. This could be your toothbrush bristles if you use a toothbrush cover or keep your toothbrush in an enclosed space like a cabinet or drawer. Allow it to airdry upright and away from other toothbrushes to stop it from becoming a breeding ground for bacteria.
6.) Sanitize Your Toothbrushing Area
You should keep your surroundings clean as well as your toothbrush:
Rinse off cups and trays that hold toothbrushes or run them through the dishwasher.
Disinfect high-traffic surfaces like countertops, sink handles, and vanities.
7.) Replace Your Toothbrush if You Get Sick
It's always a good idea to use a new toothbrush after recovering from any type of sickness to prevent reinfection. Very little is known about COVID-19, so this precautionary measure may help keep you safe.
It's more important than ever to keep great oral hygiene at home. Practicing these seven oral health tips in Castle Shannon is a great way to keep your smile healthy while lowering your risk of COVID-19.
About the Author
Dr. Colleen Cain has always been passionate about treating people, not just their teeth. To keep you, your loved ones, and the whole community of Castle Shannon safe and healthy, she has made the difficult decision to temporarily close her practice. However, she will still be treating true dental emergencies and helping you keep your smiles healthy at home. If you have any questions or concerns, don't hesitate to contact her via her website or at (412) 343-9999.
Comments Off

on 7 Oral Hygiene Habits for Lowering Your Risk of COVID-19
No Comments
No comments yet.
RSS feed for comments on this post.
Sorry, the comment form is closed at this time.