June 11, 2018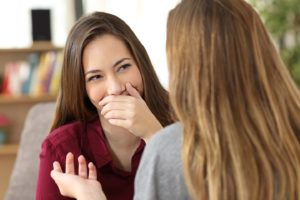 Everyone suffers from bad breath from time to time, such as after eating garlic or onions. Unfortunately, for others, it can be an ongoing source of embarrassment. It is estimated that 40% of people at some point will experience chronic bad breath, also known as halitosis. Of those who live with it, 95% of cases are due to bacteria in their mouths. If you have found yourself dealing with an unpleasant oral odor, your dentist in Pittsburgh has the solutions you need.

Why Do I Have Bad Breath?
When you suffer from halitosis, your first attempt to combat it is to use an over-the-counter mouthrinse. While it will leave you with minty-fresh breath, it often only temporarily masks the underlying cause of the problem. To get rid of the smell, your dentist will need to determine the origin of the odor to create a customized treatment plan.
Bad breath can be the result of one or more factors, such as;
Poor Oral Hygiene: If you do not practice proper oral hygiene, you allow bacteria and food particles to accumulate in your mouth. This is often a leading cause of bad breath. To stop it, brush your teeth twice a day for at least two minutes and floss in between each tooth every night. Do not forget to brush your tongue where bacteria can linger.
Tooth Decay: If a cavity is left untreated, it will progress in severity. Over time, this can lead to halitosis. By treating the decay, you will rehabilitate your dental health and your confidence.
Gum Disease: This infection develops in the gum tissue due to bacteria that is found in tartar buildup. If it is not treated, it will begin to destroy the supporting structures for your teeth. To restore your gum health, you will need periodontal therapy. By treating the infection and maintaining your oral hygiene, you will stop your bad breath.
Medications and Medical Conditions: There are certain medications and medical conditions that can increase your risk for bad breath, specifically those that cause dry mouth or nasal discharge. By treating the underlying condition or changing medications, you can help to prevent the smell.
Diet: The foods and drinks that you consume can lead to bad breath, especially if they cause you to become dehydrated, like soda. By improving your diet, you will enhance your overall health while treating your bad breath.
Smoking: Smoking and tobacco use in any form not only increases your risk for bad breath but gum disease as well. By quitting the habit, you can quickly improve how your breath smells.
Stop Your Bad Breath Today!
If you are tired of feeling embarrassed by bad breath, your dentist can help. In addition to providing you with a cleaning and checkup, they will find the underlying cause of the problem to provide you with the solution you need.
About Dr. Colleen Cain
Dr. Colleen provides complete dental care to improve the oral health of her patients while promoting their quality of life. With tailored solutions to your individual needs, she will create a healthy, beautiful smile. If you are struggling with bad breath, get the care you need. Contact our office today to schedule your consultation.
Comments Off

on Stop Bad Breath with Your Dentist in Pittsburgh
No Comments
No comments yet.
RSS feed for comments on this post.
Sorry, the comment form is closed at this time.